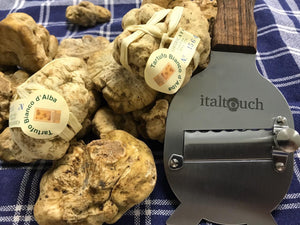 Not all truffles are created equal.
Chef's tend to be, passionate, crazy, hardworking, perfectionists and well, demanding. Knife wielding artistes, who come up with tastes and combinations that blow our minds.
Not always, the calmest…. One time in New York, I had a very famous (no name mentioned) Chef yell at me to get him White truffle or else he'd go with another vendor, understandable it's my job as his truffle supplier to get him the truffle!  But he asked me for white truffle at the end of February, after he stopped yelling, I said "you can also ask me to get fairy dust from the ass of the moon but I can't get you that either" ... I Still sell to this Chef, 20 years later because he knows if it's possible I'll get it with no BS.
Truffle, I like to say are a gift from God, the White truffle can't be farmed, they grow only in certain soil and they are seasonal. The three commonly used by Chefs are White, Summer and Black winter.
So, let's start with White truffle (Tuber Magnatum).
The most expensive, why because they are the rarest and have a very short season. Usually found in the northwest of Italy, the Piemonte region of Italy, most famously Alba, where the world-famous truffle market is held.
Taste: for me it's impossible to describe, but it's delicious, mild, unforgettable, once you try you will forever recognize the smell in a restaurant and want it!
They are usually shaved extremely thin over a variety of dishes, like pasta, risotto or simple shaved on eggs. They are not cooked; the heat of the food is enough to release the flavor and amplify the aroma. 
You will need a truffle shaver, only this will get you those super thin slices, so you can get the most out of your truffle.


Appearance: They are light, goldens, creamy color, inside and out.
Season: White truffle season is from September to December.
 
Summer Truffle, (Tuber aestivum) also known as Scorzone
This species of truffle is not nearly as rare and does not have the same leave of flavor or aroma. They are found in areas of France, Italy and Spain and their abundance compared to white or black winter also make them less expensive. 
People who are used to eating Black winter tend to complain about the lack of flavor.
It's true that they have as less pungent aroma or taste, however when used with a truffle oil or butter then can make an amazing ingredient. Also often used on a pasta or risotto, pizza, shaved it in at the very end.
Appearance: Black on the outside, white on the inside.
Season: Summer months, June, July, August
Fresh Black Winter Truffle (Tuber Melanosporum)
 Last but not lease, the Périgord truffle, often referred to as the black Diamond. This truffle is both rare, flavorsome and tend to be quite expensive like the white. They are  found near oak and hazelnut trees in the Périgord region in France and in parts of Italy, the Italian Black Winter truffle, Tuber melanosporum, AKA Tarufo Nero Pregiato.
The flavor is strong, usually described as nutty and sweet, they are versatile enough to either be briefly cooked, infused into sauces to add depth or simply shaved fresh as a finishing element, also pretty amazing on steak.

Appearance:  Black on the outside, black on the inside.
Season: Black winter truffle is from November/March. 
The truffle business for me is the most intriguing industry, it's true that in the middle of the night people search with dogs, luck, the weather the rain, their size, shape, if they can be taken out of the ground in one piece will all affect the cost.
In 2018, I got the chance to source one of the largest White truffles in the world, weighing a whopping 1.15 kilograms and it was sold for Dh187,000 Roberto's restaurant.
In 2020 The galliard restaurant bough a 800 grams truffle for Dh125, who knows next white truffle season.
I have sold truffle for over 20 years, to the best Chefs and they all have their own preference and requests! Truffles are not created equal and that what makes them so exciting!
Massimo Vidoni
https://www.thenationalnews.com/lifestyle/food/dh187-000-white-truffle-to-be-served-at-roberto-s-
 https://www.pressreader.com/uae/the-national-news/20201118/281483573921178
 https://www.arabianbusiness.com/retail/408217-dubai-restaurant-buys-worlds-biggest-white-truffle-for-50k
---